SpaceCase File #1: Travel SEO

BodegaHostels.com earned ~$38,500 (about 1.2 million Thai baht) in direct website revenue.
From over 700 page 1 keywords.
In 17 months.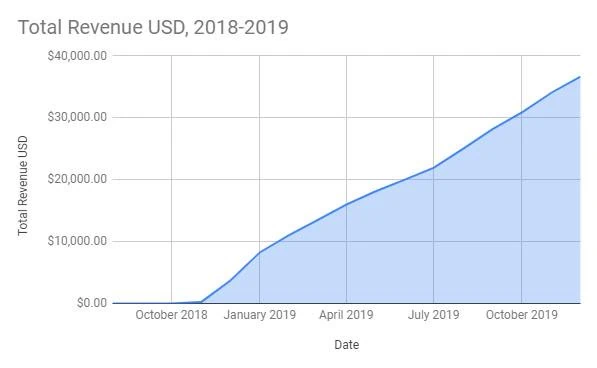 With savvy keyword research and a small team of copywriters.
Before we hop into things, I have a few important points to keep in mind.
As Bodega Hostels' Marketing Director, SEO was only one channel I was responsible for. This case study will not be covering any increases in bookings on other platforms like HostelWorld and Agoda—just direct website bookings.
Although organic search traffic accounted for 77% of our website visitors in 2018 and 2019, this case study will also cover key Facebook tactics that go hand-in-hand with publishing mountains of content.
This travel SEO case study is a 2,300 word behemoth that you'll want to give your full attention to.
If you're reading this on mobile, I highly suggest that you save this one for later.
Bodega Hostels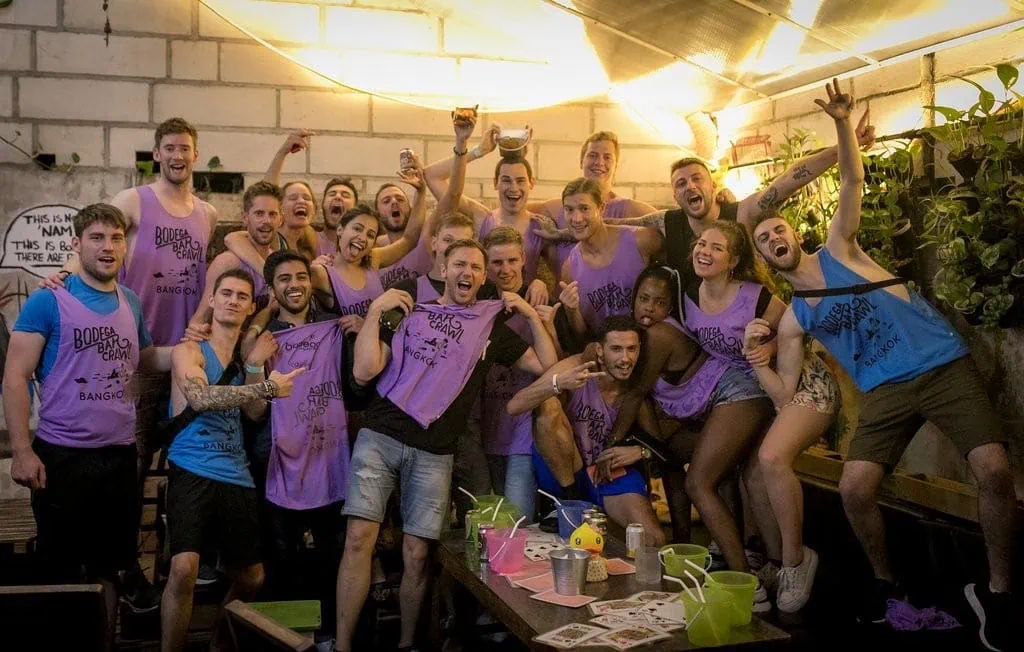 After backpacking for several months, 3 brothers from the Midwest launched a youth backpacker hostel in Thailand.
When I first visited Thailand in 2016, Bodega had 2 locations: Bangkok and Phuket.
Since then, Bodega has had over 100,000 backpackers stay at their hostels.
At 10 properties in 2 different countries.
Bodega Thailand:
Bangkok x2
Chiang Mai x2
Ao Nang, Krabi
Pai
Koh Samui
Phuket
Bodega Cambodia:
Koh Rong Samloem
Siem Reap
In 2017, Bodega acquired its largest competitor, Slumber Party Hostels and I joined the newly formed company, Slumber Party by Bodega Hostels.
On paper, this acquisition looked incredible. Neither hostel had properties in any overlapping regions, instantly making the company the largest in the country—both in total properties and in total bookings.
My primary role was to improve direct website bookings on SlumberPartyHostels.com.
I increased traffic 10x in under a year and we were starting to map out national expansion along with all the content that came along with it.
However, there was an unfortunate culture clash between Bodega and Slumber that gradually increased tension internally. The merger falling apart seemed all but inevitable and since I was all-in with Bodega, I was in an awkward position to watch events unfold.
June 2018. Bodega and Slumber went their separate ways as fiery competitors and I was hired by Bodega as their Marketing Director.
BodegaHostels.com became my new baby, but I was starting from scratch—and competing against all my old work on SlumberPartyHostels.com!
The Opportunity
BodegaHostels.com was redirecting to SlumberPartyHostels.com during the time they were together, so my first priority after the split was launching a new Bodega website.
Without our own website, Bodega would be unable to take direct bookings online.
This is a big deal for a company in hospitality because…
Every OTA (Online Travel Agency) platform (ie. HostelWorld, booking.com, Agoda) takes a % of every booking made on the platform.
And since hostels are already at a low price point, this sometimes means giving up your entire profit margin on the bed to an OTA (usually HostelWorld).
That's part of the reason why Bodega staked itself as a party hostel; food and beverage sales were powerful drivers in company growth. Tour sales as well, to a lesser extent.
Advantages of Direct Bookings Over OTA Bookings
You control and own your customer data.
You save money on every booking made by not paying OTA fees.
Improved retention.
Increased average transaction value.
Increased tour and event sales.
Some OTAs don't allow you to access customers' email addresses.
Most OTAs don't let you upsell tour tickets at checkout or promote events at all.
Investing into blogging should be a no-brainer for this industry, but the majority of hostels don't even have a website to begin with.
That's a massive opportunity for us.
And for Slumber Party too.
With the 2 companies now split up, animosity between Bodega and Slumber was growing.
The urgency to build a new website and start publishing new content was growing.
The Strategy
Be the best resource for a search term.
It may sound idealistic and overly simple but that was the basis of our content strategy.
Without going full out skyscraper technique, the aim here was to produce a piece of content that satisfies search intent better than the page 1 SERP. We also had to keep our Ideal Customer Profile (ICP) in mind here: backpackers and travelers aged 20-35 from the Western world. We didn't have to make the most thorough and complete blog for a keyword, just the best resource for our target audience. In many cases, this meant being able to rank blogs that were only 500-800 words long.
Focus on long tail keywords
KD0 keywords that larger sites have bad on page SEO for
Topics that are popular among backpackers and tourists that have not yet been covered by reputable sites (extremely low keyword competition, but strong monthly search volume)
Listicle resources aimed at expats that are still useful for tourists (e.g. best pizza in [city], best cafes, etc)
Top keywords of pages published by direct competitors to Bodega, like Slumber and Mad Monkey
Pseudo skyscraper, adding unique value from customer data and staff recommendations
Content Velocity is King
For every opportunity found in keyword research, we need to produce 1 piece of content.
From 2018 to 2019, we produced 381 blogs to tackle 381 keyword opportunities.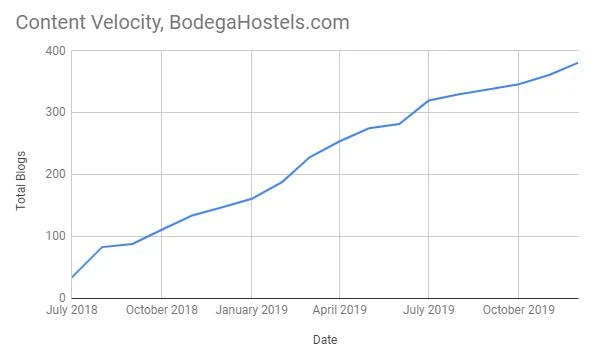 There is no secret formula to get output like this.
You simply can't rank for keywords you don't produce content for.
More content means more opportunities to rank.
And when you're tackling low difficulty keywords, that's all it boils down to.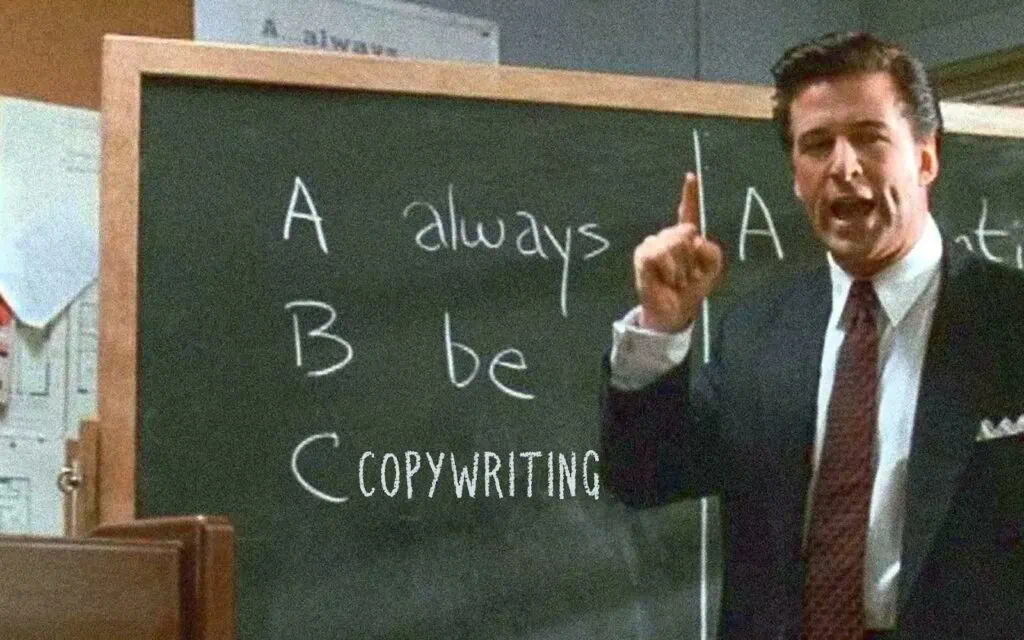 Always Be Copywriting
Content Production is a Bottleneck
When a (potential) client asks me how quickly I can get results, I respond back with a question of my own, "How aggressively can we publish content on your budget?"
How much content can we possibly produce?
Without taking a dip in quality?
Without burning out?
These 3 questions have stuck with me for many years, as I'm sure other SEOs have as well. Scaling up content production can be daunting, especially for solopreneurs and small teams.
Let's explore this bottleneck problem and what it actually entails.
SEO Content Production Pipeline
Complete keyword research.
Write blog outlines.
First drafts are written and completed on a weekly basis.
Edit first drafts after receiving them from writers.
Publish in WordPress.
Every step in this process is a bottleneck. Every. Step.
Keyword research takes time.
Writing blog outlines takes time.
Writing blogs takes time.
Editing blogs takes time.
Publishing in WordPress takes time.
Luckily, there is a savvy solution to this bottleneck issue: Process.
The Importance Of Developing Internal Processes
Recording and fine tuning processes is key to long-term success.
Processes make your business run smoother, allow you to optimize your pipeline and save you boatloads of your time.
It's important that you record your process in full, step-by-step, for as many areas of your operations as possible. For starters, it would be a good idea to record your process for each bottleneck in the content production process.
Outlining your exact methodology is essential in improving productivity, consistency and scalability.
If you are able to break down what you do, exactly how you do it, you will be able to make your expertise a transferable knowledge. This means when the time comes to scale up your operations, your documentation will serve both as training material and reference for further refinement.
Leveraging UGC to Maintain Content Velocity
One initiative at Bodega that I spearheaded was their Creatives Program.
The concept is simple: If you've got creative talent, you can stay at Bodega for free while working on collaborative content.
Most commonly, this would be travel photographers we sent on our tours and pub crawls to capture moments we could use in promotional material.
Other times, we would work with travel bloggers on content for our site (and for theirs).
The key to running a successful guest blogging program is to hold your guest contributors to the same editorial and technical writing standards that your in-house copywriters follow. The more thorough your editorial guidelines, the higher quality and more consistent the submissions will be.
Producing content more consistently cuts down on the time it takes to edit and publish content, making it an important component in scaling up content operations.
Keyword Research for Travel Content
Stealing Traffic from Competitors
First and foremost, I still had access to Google Analytics data for Slumber Party's website during the keyword research phase of planning out Bodega's new website.
Being able to look directly at traffic data for your biggest competitor is like an SEO cheat code.
I was grateful to have this opportunity, but I also recognize that this is extremely irregular and not an approach to rely on. Still, it was a strong initial approach that I wasn't going to pass up.
I exported a list of their highest traffic pages, popped them into ahrefs and found some easy, low-hanging fruit to tackle. I was lucky (or merely opportunistic) to find low competition, long-tail keywords that Bodega's new website could rank for quickly.
The lesson I took from this is that although I brought results to the table working for Slumber, I was building a glass house that could be taken down with the proper strategy and some persistence.
Using ahrefs to Find Weak Points of Competitor Websites
Next I went right back into ahrefs and took a good, hard look at other competitors' websites. Other than Slumber Party, only 1 competing hostel chain in Thailand even had a blog at all.
This was a bittersweet discovery.
On one hand, this meant there was a lot of ground to cover, undisturbed by active competition.
On the other hand, this meant we had to display leadership and authority in a market without guidelines for what type of content will rank.
There were 2 types of keywords we would target to compete directly with competitors:
Top Pages in ahrefs (already validated by competitor efforts)
0 keyword difficulty with a minimum monthly traffic filter
On-Page SEO is Underrated
Backlinks are not the alpha and omega for SEO.
Google places importance on satisfying search intent.
On-Page SEO Checklist
Whenever I start a new SEO project, I rely on The SEO Checklist to make sure I've got all my ducks in a row.
URL Structure
It's important to use an easy to read, logical URL structure.
I kept it quite simple for Bodega's blog:
bodegahostels.com/blog/blog-title-like-this/
Each hostel property has its own mini-site, consisting of 5 pages:
/country/city
/country/city/accommodation
/country/city/contact
/country/city/tours-events
/country/city/blog
I didn't give it much thought past this, but Moz has a great reference guide on when to change URLs for SEO you can check out if you want to deep dive the topic.
Internal Linking Strategy
Internal links are an effective way to indicate to Google which pages are important to your business.
The most important pages of a site are commonly referred to as money pages, which means exactly what you think.
Unlike other projects I've worked on, Bodega's money pages are obvious at first glance.
Hostel Property Pages
Pub Crawl Ticket Pages
These pages cover our most important keywords and convert to sales the best, so it only makes sense to guide users browsing the site towards them with internal links.
When building internal links on your website, there are 3 principles to keep in mind:
Pages with more internal links are easier to rank.
Pages that are far away from the homepage (clicks) are harder to rank.
Google cares about relevancy, so internal links from more topically relevant pages will have a stronger effect than less topically relevant pages.
Keeping those 3 principles in mind, we took a simple 2-step approach to internal links:
Build relevant internal links from topically relevant blog content to money pages.
Add navigation menu links to money pages so they're easy for people to find.
Giving people easy access to your money pages from a navigation bar is a great way to make sure they're a close distance from your homepage.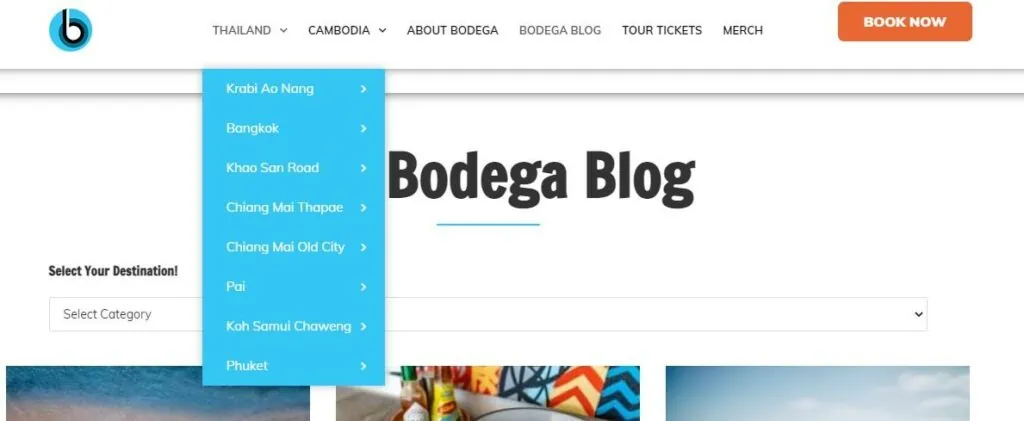 Sending dozens of internal links to your money pages can move the needle more than you'd think.
If you haven't been adamant about internal linking in your blog content yet, you've got a low-effort SEO opportunity right in front of you.
Image Optimization
Websites that load in under 5 seconds rank higher and see 70% longer average session lengths. If your website is fast, people are more likely to read, engage and stick around.
Optimizing the file size of your images is an easy way to improve page load speeds.
Here's how I optimize images for SEO:
Resize images in bulk with Adobe Lightroom
Reduce image file sizes with FileOptimizer
ShortPixel automatically optimizes file sizes again at upload, serves in WEBP format
I usually aim for images to be under 250kb as a rule of thumb. You really don't need to complicate things further than this, so long as your pages are loading in under 5 seconds.
If you've optimized your image file sizes but still don't meet the 5 second mark, consider improving Core Web Vitals or trying your hand at some technical SEO.
If you can hit the 5 second mark without reducing image file sizes, you can work to further improve page speed or just skip this step altogether. Just remember that it's a minor ranking factor in the Google algorithm, so it isn't going to impact your rankings as heavily as producing new content or building links.
Closing
Thanks for reading to the end
If you have any questions, drop them in the comments below.
If you want to learn how to dominate the search real estate of your niche, please sign up for our newsletter.