You need to know how many people are coming to your website if you want to measure success and craft strategies. But where do you find that information? The answer lies in measuring website traffic using Google Search Console.
Use Google Search Console, and you'll understand who is visiting your site, where they've come from, and what they're doing on your site—all of the most important SEO metrics.
In this article, we will share how you can use Google Search Console to measure your website's traffic. It's a tool that unlocks information and knowledge to help you build strategies and grow your business.
Is the process of setting up Google Search Console simple?
What information can you find?
Can you build reports?
What is Google Search Console?
In a past life, Google Search Console was called Google Webmaster Tools. If you're serious about knowing the ins and outs of your website's performance, it's a tool worth getting to know. It's a tool that allows you to monitor, maintain, and gain insight into your site's position and ranking in Google's search engine results. The best part? It's free!
When you first open the dashboard, there's an onslaught of information. You'll see traffic insights. There are indexing statuses. There are error reports. It's a lot to take in. Spend time with it and understand what you're looking for, and you'll soon get a clear view of the information you need.
It's not just a simple tool, it's invaluable.
Setting Up Google Search Console
Setting up Google Search Console appears like a seriously technical task. You might think it's outside of your abilities, but rest assured, it's surprisingly easy to achieve.
Add Your Website: The first step is to add your website to Google Search Console as a property. This is like sticking a flag into your piece of the internet. You're claiming your land.
Verify Your Ownership: To stop everyone from claiming websites they don't own, you have to verify that you own them. Ownership essentially translates into authority to change the site's data and settings. You can verify ownership in a few different ways, including HTML code injection, verification through your domain provider, or connecting to Google Analytics.
Configure Your Settings: Now that you've verified your ownership, you can dive in. At first, there won't be any data. Google only starts recording data once you've claimed your site. You can help the process by submitting a sitemap. This is usually in the form of a URL from your site that ends in .xml.
Visit Regularly: Search Console will begin to share insights and data on your site within days. Now, you need to work it into your routine so that you can benefit from its wisdom.
Getting To Know The Google Search Console Dashboard
The best way to understand the dashboard is to spend time with it. This is going to be your command center. It's where you can access all of the data about your site. The sooner you feel comfortable with it, the sooner you'll be able to extract and work with the data and insights it provides.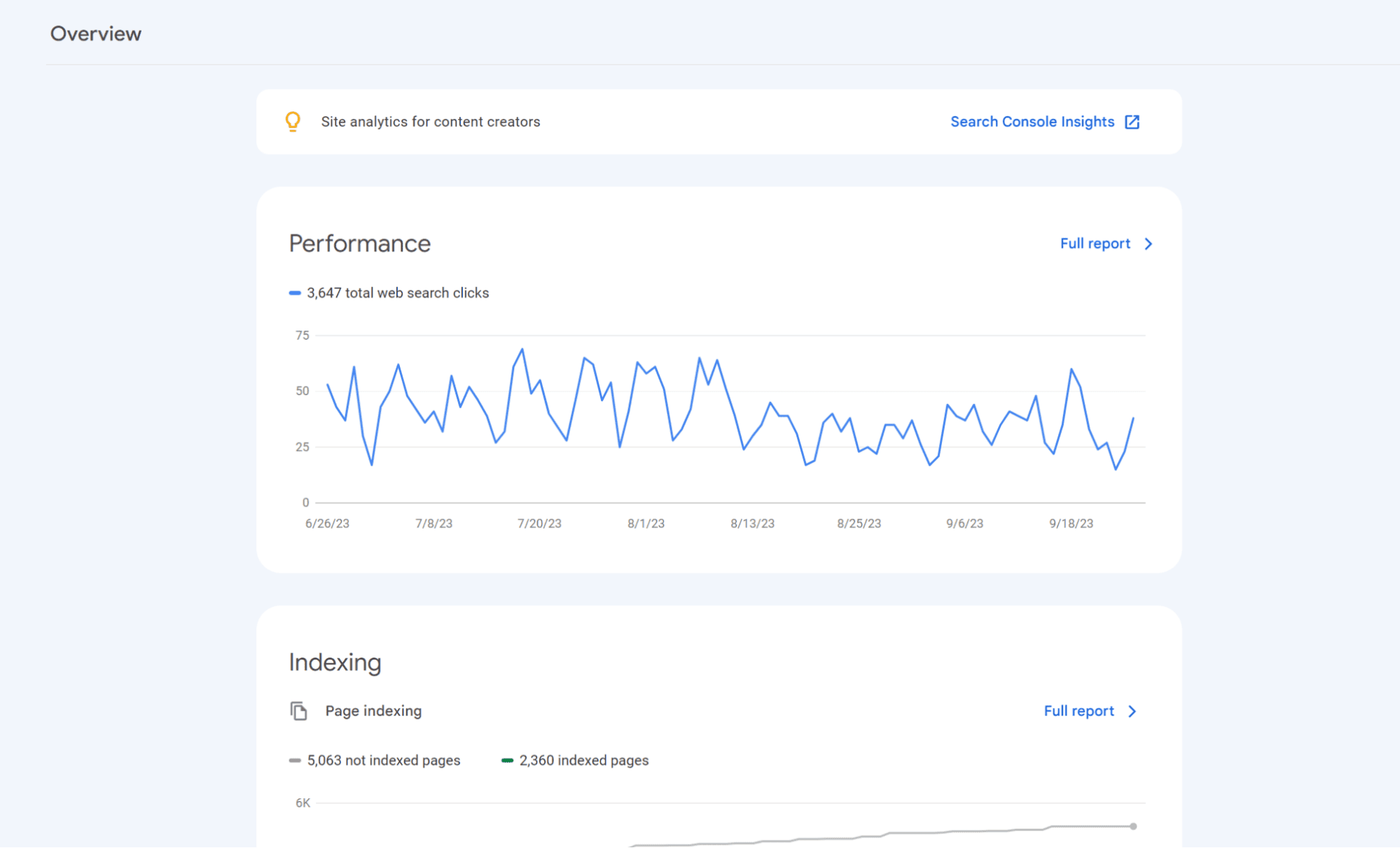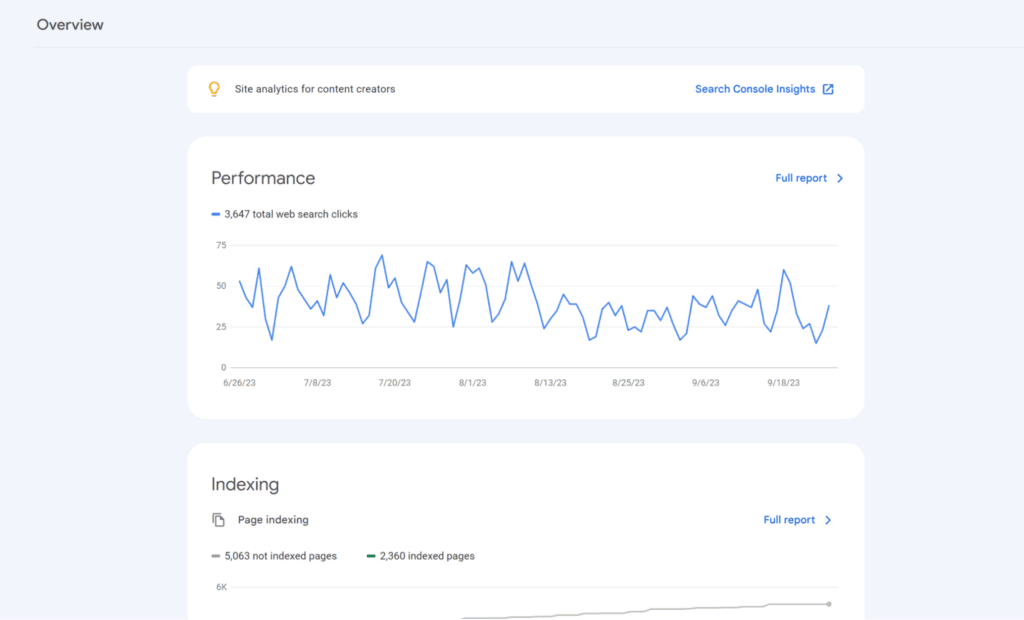 Overview
This is the homepage of your Search Console. Here, you see information on performance, indexing, user experience, and enhancements. It gives you a good snapshot of how your site is performing over the past month.
Performance
Under the performance section of the dashboard menu, you'll find search results insights, discover insights, and Google News insights. The majority of people will major in looking at the search results section. Here, you'll find information that outlines your total clicks, impressions, average CTR (click-through rate), and average position. You can then analyze this data by particular query, website page, countries, devices, and date.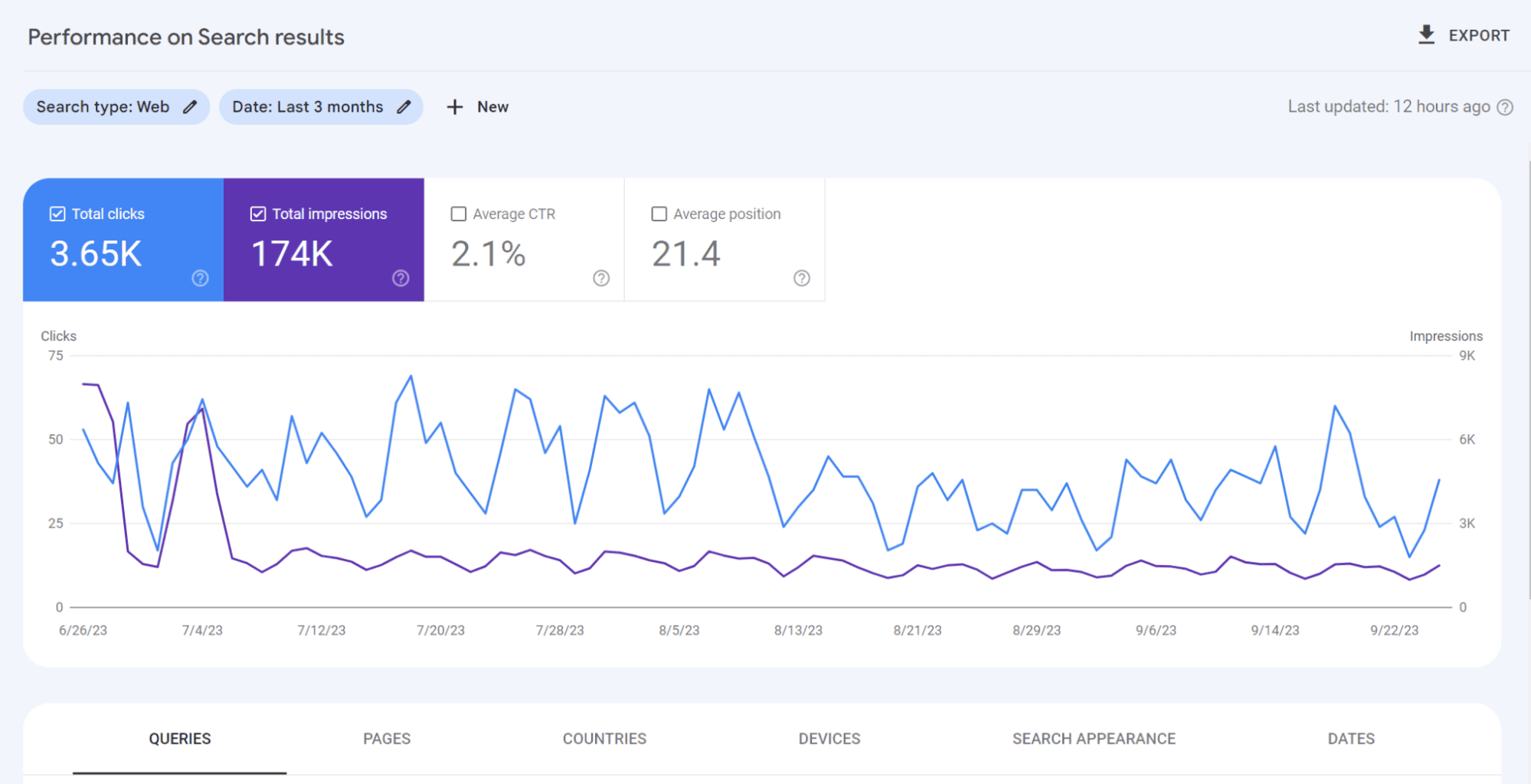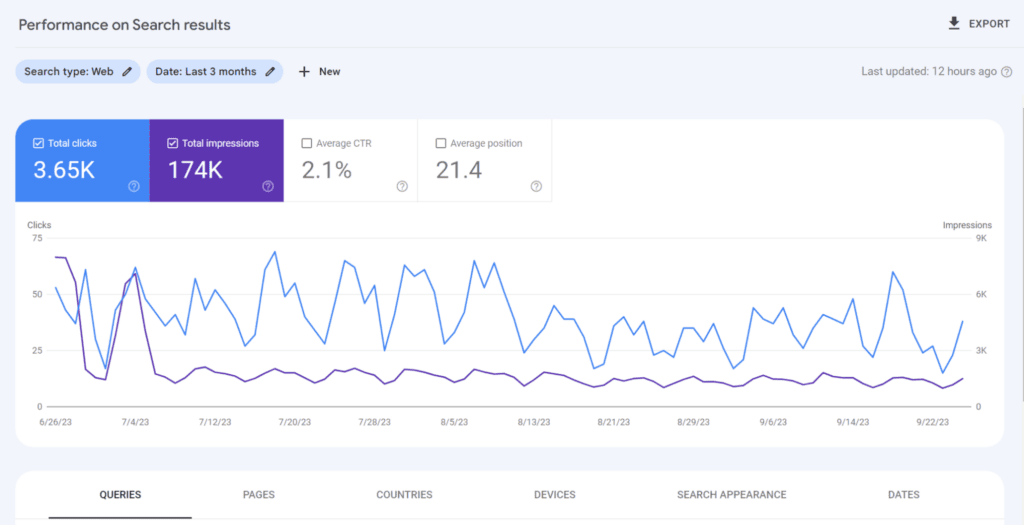 Performance is where most website owners spend most of their time. They want the cold, hard information on traffic numbers. If you've launched content linked to a particular keyword theme, it'll quickly give you insight into how it is performing. In the same way, you can keep an eye on your ever-important cornerstone content and the traffic that it is delivering.
Indexing
If you're regularly publishing content, the indexing page will be of interest to you. Indexing shows you a bar chart. This graph shows the number of pages that Google has successfully indexed.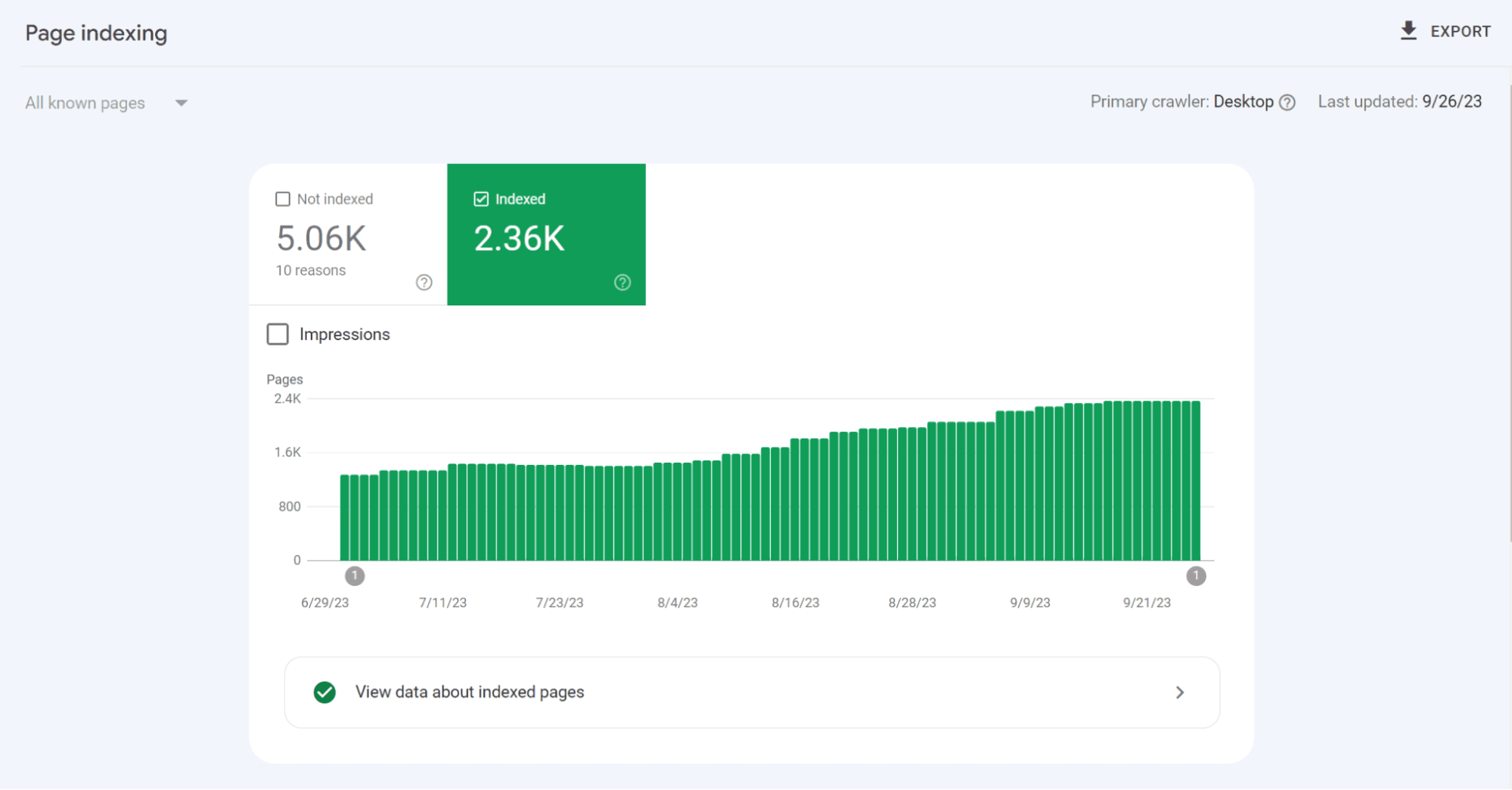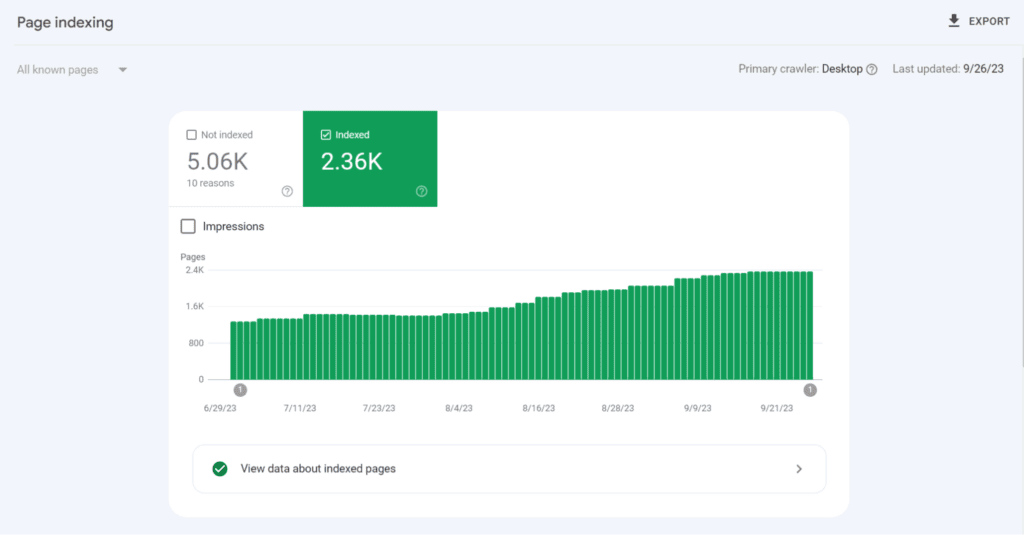 If pages haven't been indexed, it'll explain the reason. That is especially important if you feel that it should have been indexed. Remember, if a page isn't indexed it can't feature in search results.
URL Inspection Tool
This great feature allows you to dig into a particular page of your site easily. Simply paste the URL into the search bar at the top of the page, and you'll be presented with a handy report.
Using Performance Reports To Measure Traffic
Performance reports are accessed through the performance tab, as outlined above. Once you've navigated to this section, you can begin to measure and analyze your traffic in detail.
Clicks: Clicks tell you how many people clicked your link on a Google results page.
Impressions: This metric shows how often your website appeared in search results.
CTR: A percentage that tells you how many people who saw your website clicked through to it.
Position: Where your site ranked on the search results page.
If you want to compare your performance against a previous period, simply click the date, then use the Compare option and set your comparison. You'll then be presented with two graphs overlaid over each other.
Key Takeaways
Using Google Search Console to measure website traffic is simple, effective, and extremely powerful. Remember that this isn't the whole picture of your traffic. Instead, it is an indication of traffic from Google search results. It doesn't take into account social media referrals, direct traffic, or any other source.
Don't be put off by the setup process. It's straightforward once you get going.
Spending time with the dashboard is the easiest way to learn the system.
Keep an eye on your indexing graphs to be sure there aren't any issues with your site.
As SEO specialists we love Google Search Console. Interested in finding out more? Get in touch!